Walter M. Williams
High School
Class Of 1978

Happy Birthday Anne!
For our dear friend and classmate, Anne's October 1 birthday represents a miricle that we help celebrate with abundant wishes of love and hope! To Anne and all the Powell/Ellington family, please know that prayers from all over the Country by the Class of '78 have been continuous and steadfast for Anne and each of you.
Anne, as you celebrate your 61st, we are all smiling as we raise a toast to you! We will remain at your side spiritually and in person always! We thank YOU for the love, friendship and support you've freely given to us all your life. It's our collective honor to be your friends and the well-wishes you feel are from hundreds of your classmates!
Enjoy your days back at home, but next year we must all celebrate together! May God bless you and your family today and always.
https://www.caringbridge.org/visit/anneellingtonpowell/journal
60th Birthday Party was AWESOME!!!
UPDATE NUMBER FIVE
We celebrated our 60th year in October at the home of John and Kim Love with style, good food and great stories! In spite of COVID, we safely and happily laughed the night away. It was a beautiful evening and the stories semed to flow like a river! To all who attended, thanks for making the effort - Russ Lawrie and his bride win the prize for most distance traveled! Thanks also to Anne Powell, who had the idea to celebrate 60! We are blessed to have each other as lifelong friends! Take care and now we all look forward to 2023! By the way, if you have pictures of our get together, send them to me and we will post.
40th Reunion! What A Blast!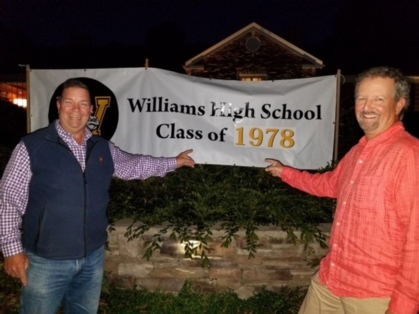 So many smiles, so much laughter and the melting away - for a weekend - of 40 years! TO THOSE WHO DIDN'T ATTEND: I have been asked to let you know how much we missed you! Our reunions are great because of each and every 1978 graduate. Please keep in touch and know we toasted your health and happiness.

Follow up:

1. Pictures are posted Email or text me yours - especially if you have any from Friday - I think we were too busy hugging and greeting and eating and drinking....

2. Complete the Reunion Evaluation Your opinion counts!

3. THANKS: To the Reunion Committee! To Jay Oakley who must be part bird dog - he can find anybody! To Jimmy, Bill and Robert for their wonderful words of welcome. To Laine for searching, finding and putting together all the 78 decor! To the decorations committee for making everything so special on Saturday night. To Marty for the cake! To Anne and Mary Lou for the flowers Friday! To Penny and Kathy for only breaking one glass each! To Kelly for shoveling up the glass - and the squirrel! To Kim Love for having all of us into her home Friday and making me the luckiest guy in the class! The food and atmosphere were awesome! To everyone for making the effort to reunite with the great WHS class of 1978!

POST YOUR REUNION COMMENTS HERE!

Contact all of Your Classmate Friends!

YOUR 45th REUNION COMMITTEE - Beverly Barnwell (Smith), Lynn Basden (Cole), Van Beck, Teresa Brady (Smith), Ted Chandler, Mary Lou Ester (Crenshaw), Pam Fazzino (Slepp), Lisa Foster (Layne), Julie Hawks (Edge), Emily Houston, Penny Kappas (Chandler), John Love, Rob Maultsby, Lisa McIntyre (Henry), Bill Murphy, Laine Neese (Francis), John Nicholson, Jay Oakley, Angela Petteway (Horton), Kathy Ray (Holt), Jeff Walton, Ellen Woods (Isley), Bobby Wright

This permanent site for the WHS Class of '78 helps us keep in touch and prepare for our 45th reunion. Maintain your classmate profile and check your email for reunion updates. Also, whenever you make contact with your classmates, please be sure to point them to this website.

UA-109055936-1